Heating and Cooling Installation Experts for Indianapolis, Greenwood and Shelbyville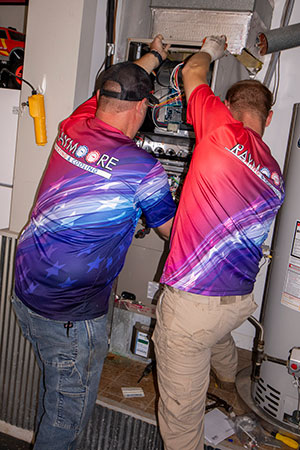 Whether you're replacing a broken down or an old HVAC system, having the right heating and cooling solution installed in your Shelbyville or Greenwood home can lead to improved comfort and better, more energy-efficient performance. This translates to money saved in the long run.
Choosing the right system is as easy as choosing the right HVAC company. As heating and cooling experts in the Indianapolis area, we understand  how fickle Indiana weather can get. 
When you work with us, our team will visit your home to find out which system will best fit your needs. We put the customers' needs first so we'll only recommend what's necessary. We won't waste your time and money with other upsells.
We are certified dealers of Carrier® HVAC solutions. This means we have a deep understanding of their applications and how they can help boost the comfort and energy efficiency of homes. We prefer Carrier® products because they deliver best-in-class performance and durability.
Rest assured your home will get the best heating and cooling solution to match your home's needs.
The Importance of Installation and Maintenance for HVAC Systems
As important as getting the right HVAC system for your home is, its longevity and consistent performance depends mostly on the installation process and its maintenance.
Even if you have the best system, if it's incorrectly installed, you may experience inefficient cooling and heating. Over time, you can also experience more failures and subsequent repairs. Not only will this result in discomfort, but it will end up costing you more down the road.
This makes choosing the right company critical to the long-term performance of your cooling and heating system. When you choose us to install your HVAC unit, we'll make sure everything is correctly in place.
We've built a reputation in Shelbyville and the surrounding counties. Clients trust us to do the job right the first time.
The Raymoore Heating and Cooling Advantage
Apart from having a wealth of experience installing HVAC systems in local homes, we also offer the following advantages to our customers:
Continuous Training – Although the members of our team are already experts in the industry, we still undergo regular training to make sure we are up to date with the latest industry developments and best practices.
Customer-Centric – Aside from only offering what's necessary for your HVAC system, we also offer financing options with FTL.
Stellar Reviews – If you want to find out what our past customers are saying about us, visit our reviews page.
Choose Raymoore Heating and Cooling
For cooling and heating systems installations, call us and we'll take care of everything, making sure that your home gets the right system for your needs.