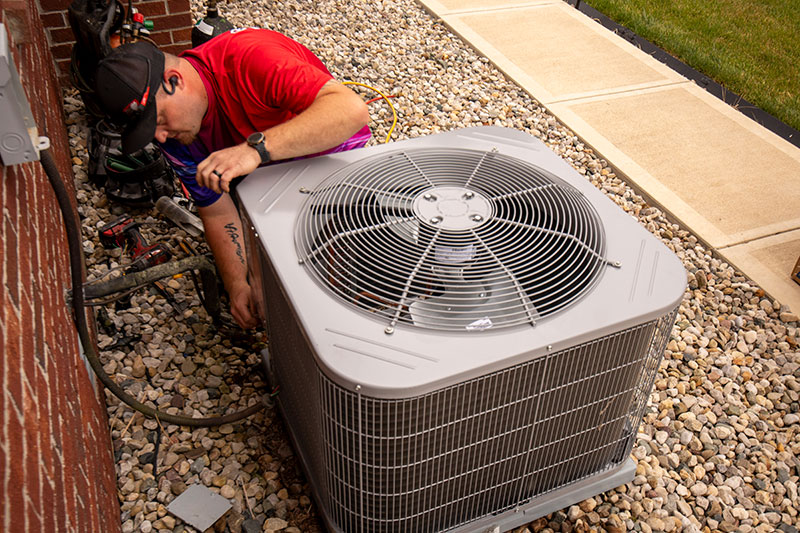 Heating and Air Conditioning Repair
Our HVAC repair services for Greenwood and Shelbyville, IN and surrounding areas are available round-the-clock. No matter the time of day, our team is always ready to help you with your home's HVAC system emergencies. Our highly skilled technicians are experienced in dealing with any issue that may arise, ensuring that your comfort and safety is never compromised.
We pride ourselves on providing excellent customer service and offer free diagnostics when carrying out repairs. Rest assured that we will diagnose the problem accurately and provide prompt solutions to get your HVAC system up and running in no time.
Take advantage of our special offer and save $89 on your HVAC repair if we fix it after conducting a thorough checkup. Our team is dedicated to providing quality services at reasonable prices, making our services worth every penny.
Don't hesitate to reach out to us for any HVAC emergencies or regular maintenance services that you may need. Let us help you keep your home cozy, comfortable, and safe throughout the year.
HVAC Issues that Need Immediate Attention
While HVAC issues can vary in urgency, certain situations require immediate attention. If you encounter any of the following problems, it is recommended to seek emergency services:
Carbon monoxide alarm activation: Since carbon monoxide is dangerous, a triggered alarm suggests potential hazards. Call professionals promptly to address the issue and ensure safety.
System failure to turn on: Especially during extreme weather conditions, a malfunctioning HVAC system can be problematic. Calling for quick repairs can prevent further inconvenience and potential health risks.
Unusual noises or smells from vents: Strange noises may indicate compressor or combustion issues, while burnt odors signal potential problems. Prompt action is crucial to prevent the situation from worsening.
Musty smells: These can indicate mold or bacterial contamination within the system, which can pose health risks. Addressing this promptly helps maintain a healthy environment.
Water leakage from the system: Leaks may stem from various issues such as pipe damage, clogged drains, or frozen evaporator coils. Immediate attention is necessary to prevent further complications and costly repairs.
Remember, in emergency situations related to your HVAC system, seeking professional assistance is essential to ensure your safety and prevent further damage.
Emergency Repair Services for Air Conditioning and Cooling Systems
Summers can get toasty in Indiana, we understand. The humidity can be especially punishing. This is why it's important to have a fully functioning AC system to make sure everyone stays cool and comfortable in this heat.
We're one call away and we can work on the following A/C issues you may encounter:
Failed compressor
Broken blower motor
Frozen evaporator coils
Frozen condenser
Leaks or clogged condensate drains
Thermostat or other electrical issues
Emergency Repair Services for Furnace and Heating Systems
When it's cold in Indiana, it gets really cold. It's during these times that your heating system is essential not only to keeping your family comfortable, but healthy as well.
Call us anytime and we'll fix your heating system. Here are the common problems we'd be happy to deal with:
System doesn't start up
Reduced or erratic airflow
Combustion issues
Furnace or boiler issues
Leaks in the flue or heat exchanger
Call Raymoore Heating and Cooling Now
Don't wait until morning to have your HVAC system up and running at peak condition again. Call us and we'll come knocking.
We are seasoned contractors in the industry and we always deliver stellar results. We've built up a reputation in Shelbyville and the surrounding communities as HVAC experts who always get the job done right the first time.
Emergency Repair Service Hotline: (317) 418-2961